Welcome to Piglets Play Centre. Located in Hersham Surrey, in acres of beautiful greenbelt, we have purpose built indoor and outdoor facilities designed for childrens play and for you to relax. The adventure continues with our child friendly farm animals! Private hire is welcome.We also have great coffee and food. Please note : A minimum spend of £10 can only be accepted if paying by card. We look forward to seeing you soon.
Monday 17th Feburary 9.30 – 4.00PM – Ceramica
Fantastic opportunity to create beautiful ceramic pieces. Your child can paint freehand or Hannah will help you print baby hand or footprints onto plates.
Tuesday 18th Feburary 3.30 – Elsa Singalong
Elsa will be interacting with the children and singing.
Wednesday 19th February – 2-5pm Sound and light play session
There will be upbeat music and lights to stimulate and create a different environment for your little treasures.
Friday 21st February – Pony experiences
From 10 -12 and from 2 – 4 we are offering a very exciting opportunity for your little ones to have a one to one half hour session with a pony. Grooming , riding, putting ribbons in its mane and receiving a rosette and certificate at the end. This also includes a play in Piglets.
Friday 21st February – 2-5pm Pony rides
From 12 – 2 we will be offering pony rides. These are at an additional cost to your usual entry fee.
Sunday 23rd February – 10-12am Pony rides
From 12 – 2 we will be offering pony rides. These are at an additional cost to your usual entry fee.
Friday 28th February 4.30-6.00PM – Peppa Pig-lets rave!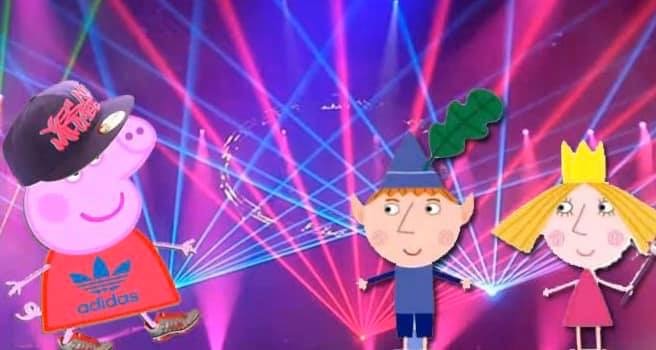 Get your glowsticks ready, we are having a Rave! Great opportunity to get together and dance with your little treasures. Peppa will be visiting to have a dance and dj also! We are encouraging track requests too and feel free to bring a bottle if you wish! For tickets please call 01932 241323 or see our Facebook event page for more interaction.
We are excited to announce our parties for older children!
Due to the success of our Pig-lets Rave, we are excited to launch our parties for older children on Friday evenings. We will ensure everyone is happy with music, lighting and of course, yummy food and drink. We also offer the opportunity of letting your child choose their own music and playlists so they can make it their own! We can cater to whatever your requirements so call us on 01932 241323 to discuss and book your party as soon as possible!
Piglets is run as a cafe and we politely ask that you only consume food and drink purchased here.  Thank you.